Skyraider MiG 17 Kills
VA-176 Thunderbolts
9 Oct 1966
---
While flying a RESCAP mission over North Vietnam from the carrier USS Intrepid on Yankee Station in the Tonkin Gulf, four A-1 Skyraider pilots were engaged by four North Vietnamese MiG-17s. During this encounter, one MiG 17 was confirmed downed, another was probably downed, and a third was damaged.
This tape was provided by Walt Darran, Skyraider pilot from VA-165, a sister Skyraider squadron on the Intrepid.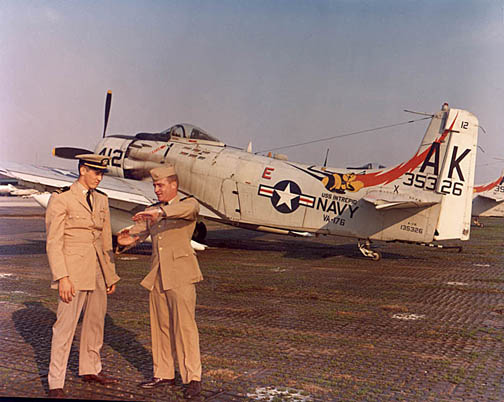 LtJg. Tom Patton on the left, explains to Lt. Pete Russell how he maneuvered during the MiG engagement.
(Photo courtesy of Harry Gann)
LCDR Leo Cook and his wingman LTJG Wiley were the lead section of Skyraiders working to locate and hopefully rescue a downed US pilot in North Vietnam. While maneuvering at low altitude between ridges and cloud layers, they were jumped by what turned out to be two sections of MiG 17s. Calling out the attack on their common radio frequency, Cook and Wiley fought for their lives. LT Pete Russell and LTJG Tom Patton soon arrived in the area and immediately gained a position of advantage on the MiGs. The details of this encounter were taped by the intelligence officer on board the Intrepid after the incident.
(MP3 format 24 min 50 secs)