Pacific Stars and Stripes
Monday Dec. 20, 1971
S&S Vietnam Bureau
SAIGON. A U.S. Air Force pilot dangled from a 70-foot-high tree in Laos for nine hours after he and his copilot parachuted from an F4 Phantom hit by a surface-to-air missile late Friday night, 7th Air Force spokesmen said Saturday.
Low cloud cover prevented rescue aircraft from reaching the men until Saturday morning when helicopter crewmen followed a fading radio signal to the copilot and plucked the pilot out of the tree a mile away, spokesmen said.
North Vietnamese soldiers fired another SAM at the rescue aircraft and rescuers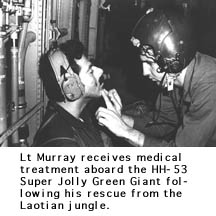 reported small arms fire in the area, but there was no damage to the aircraft, spokesmen said.
The pilot, Lt. Col. Arthur S. Blissett, and copilot, 1st Lt. Michael H. Murray, were reported in excellent condition Saturday afternoon.
The men landed in heavily forested hills five miles west of the North Vietnamese-Laotian border after parachuting from the stricken F-4, spokesmen said.
They were escorting an Air Force RF-4 reconnaissance plane near North Vietnam,s Mu Gia pass when the Soviet-made SAM ripped into the fighter-bomber, according to spokesmen.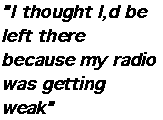 Blissett,s parachute lines tangled in a tree, leaving him suspended 70 feet off the ground, and Murray landed on the ground a mile away, spokesmen said. An HH-53 Super Jolly Green Giant helicopter crew from Thailand picked up Murray,s faint radio signal and pinpointed his position about 8 a.m. Saturday.
"I thought I,d be left there because my radio was getting weak," Murray said after being picked up.
Minutes later the chopper hovered above Blissett and lowered a crewman who helped hoist the pilot into the helicopter. "I believe we lifted half that tree up with us," Blissett said.
The F-4 Phantom was the second U.S. warplane downed by a SAM over Laos in a week, spokesmen said.
An Air Force F-105 fighter bomber was hit by a SAM over Laos Dec. 10, and rescuers recovered only one of the two crewmen.
The two fighter-bombers are the only U.S. planes that have been shot down by SAMs over Laos, according to 7th Air Force spokesmen.
Blissett and Murray are members of the 366th Tactical Fighter Wing in DaNang.
---
Seventh Air Force News
(undated)
40th ARRS Picks up pair of downed pilots
TAN SON NHUT Two Air Force aircrew members were returned from the jungles of Laos recently by American rescue forces after their aircraft was hit by a surface to air missile (SAM).
They were flying a F-4 Phantom from the 366th Tactical Fighter Wing,DaNang Afld., on a reconnaissance escort mission over North Vietnam Dec.17, when struck by the missile. They went down about five miles west of Mu Gia Pass in Laos.
The pilot, Lt. Col. Arthur S. Blissett, and the back seater, 1st Lt. Michael H. Murray, successfully ejected from the stricken aircraft and landed in dense mountainous jungle terrain. Voice contact was established almost immediately with the downed aircrew by forward air controllers operating in the area and an HC-130 Kingbird maintained the contact throughout the night. The rescue force planned to launch for the pick-up at first light.
Colonel Blissett and Lieutenant Murray both reported that they were uninjured.
To insure their safety during the night., U.S. fighter aircraft conducted bombing and strafing strikes on the area surrounding the men who had landed about 3,500 feet apart. Colonel Blissett landed in the tree tops and spent the night there rather than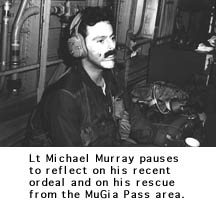 risk a drop of some 70 feet to the ground.
In the morning an A-1 Sandy aircraft spotted both parachutes and directed an HH-53 Super Jolly Green Giant helicopter to the area. After spotting Colonel Blissett safely tied to his tree top, the Super Jolly of the 40th Aerospace Rescue and Recovery Squadron went to look for Lieutenant Murray.
Radio contact with the lieutenant indicated that the chopper was right above him but they could not see him. Asked, "Where have you been" by one of the Jolly Green crew, Lieutenant Murray replied, "I,ve been right here all night." He was then lifted to safety.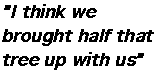 Getting Colonel Blissett from atop the jungle canopy proved to be a bit more difficult. A pararescueman was lowered on the jungle penetrator and assisted him in cutting parachute lines that he had used in typing himself to the tree. After hacking through the lines and the heavy foliage to which the colonel had attached himself, the pair was hoisted from their tree top perch.
"I think we brought half that tree up with us" was Colonel Blissett,s remark following the successful rescue.
Members of the crew of the HH-53 making the rescue were: Maj. Clyde E. Bennett, aircraft commander; Maj Donald L. Roston, pilot; A1C William T. Lyles, flight engineer; and pararescuemen MSgt Daniel L. Schmidt, SSgt William E. Brown and Sgt Dennis E. Williamson.
*************************************************