4407th CCTS
(includes 603 ACS aircraft)
Hurlburt Field, Florida
Though not a combat squadron, this unit was responsible for the training of virtually every USAF A-1 pilot that flew the Skyraider in Southeast Asia from mid-1964 to 1972. The squadron was located at Hurlburt Field (Eglin AF Aux #9) near Fort Walton Beach, Florida.
(All images on this page thoughtfully contributed by Rob Mignard)
[This page takes a while to load, please be patient]
---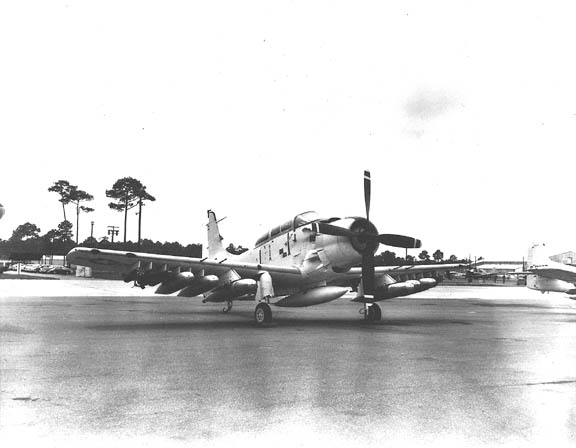 A new A-1E sits on static display at Hurlburt
(info on rear of photo)
169894 USAF - Douglas A-1E aircraft.
---
A-1E 132-417 hangs on the wing over the Eglin range complex.
(note the early version pain scheme)
KE23904 - The USAF Douglas A-1E, an adaptation of the US Navy AD-5 aircraft, is used by the USAF Air Commandos as a counterinsurgency fighter. With a maximum speed of 365 mph and a range of 2,700 miles, the A-1E, armed with 4 - 20mm cannons is capable of handling nuclear weapons as well as a bomb load of 8,000 pounds. Training of both pilots and ground crews of the Air Commando units was done at Eglin AFB, Fla.

An A-1E aircraft, on a training mission, in flight over Eglin AFB, Fla. 1 Feb 64.

(When I grow up, I want a job as the guy who writes this crap!)
---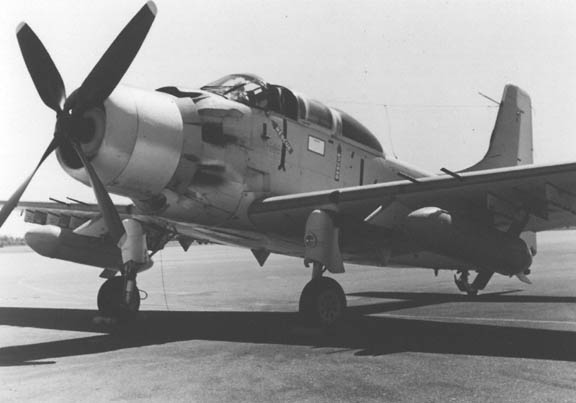 An early A-1E in the USAF
K 60347 - When: 1965. What: 3/4 front left side view of an A-1E aircraft with one MA-4 bomb under each wing.
---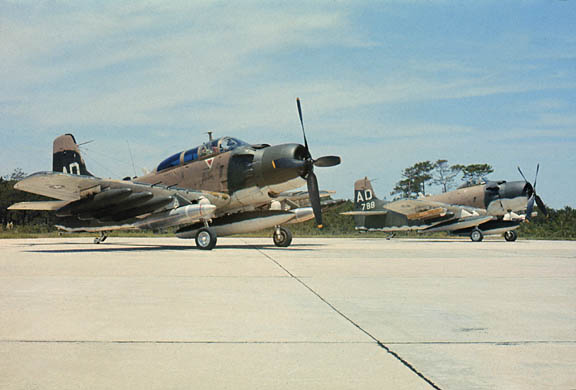 Two of the 4407th CCTS A-1s on static display
---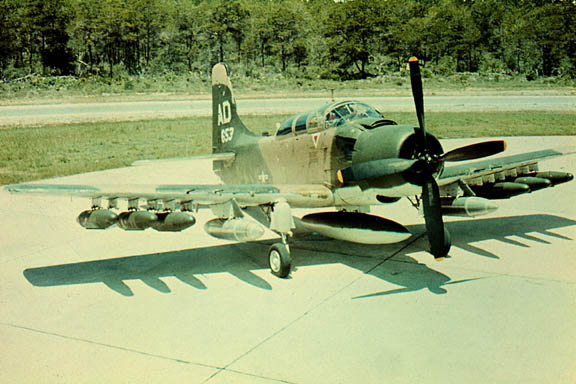 A shot of A-1E 132-653 loaded with napalm.
(This aircraft was still assigned to the 4407th CCTS in late 1971)
---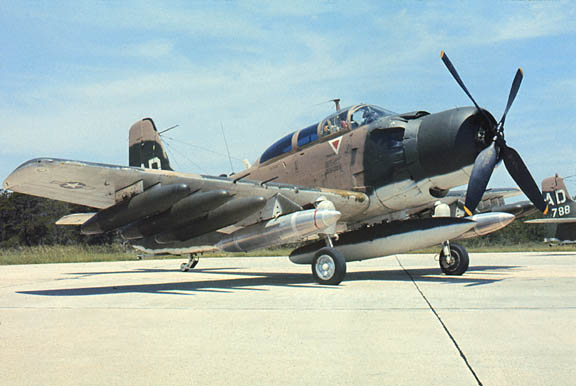 Another view of A-1E 132-653
---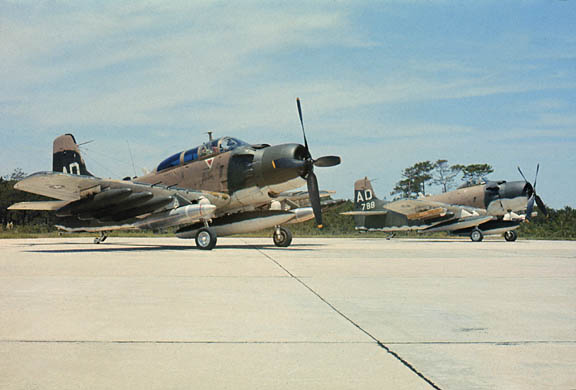 One more view of A-1E 132-653 with napalm
(Note A-1H 788 in the background)
---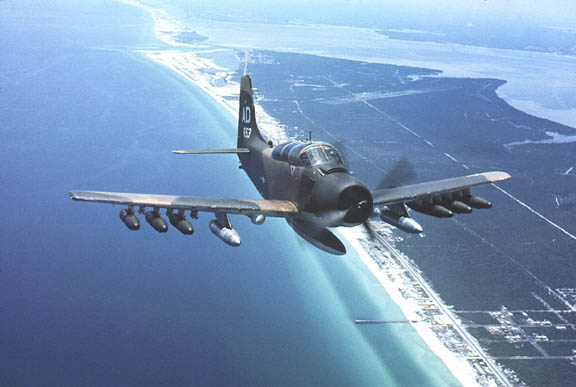 The same A-1E 132-653 inflight with its napalm load in a great semi head-on shot over the Florida beaches.
---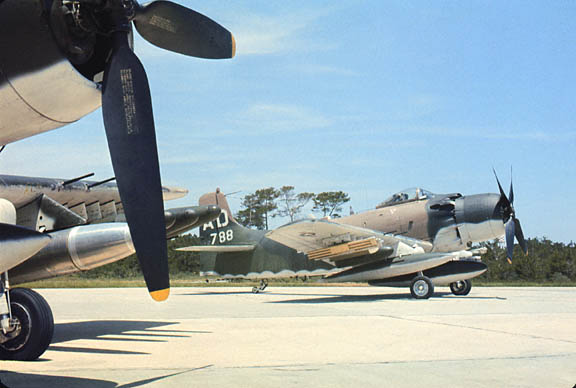 A-1H 788 sits on display with a mixed load of ordnance
(The prop of A-1E 132-653 visible on the left)
---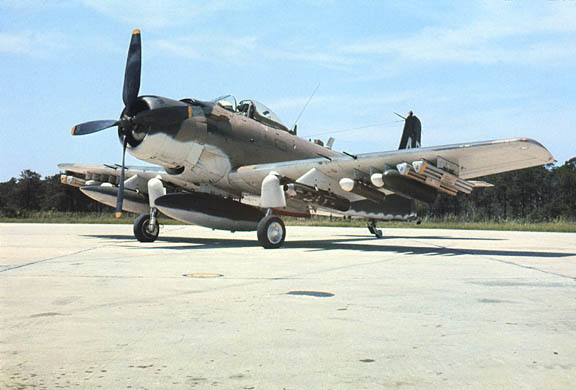 A-1H 788 with a load of CBU, Rockets and a SUU-11 Minigun pod.
(The large store on the centerline is a 300 gallon fuel tank with a 150 gallon fuel tank of the right inboard station)
---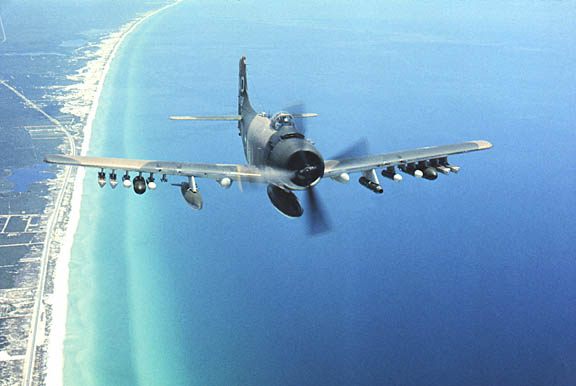 A-1H 788 in a great shot over the white beaches of the Fort Walton Beach area.
---
A freshly painted A-1H on the ramp at Hurlburt Field, FL.
---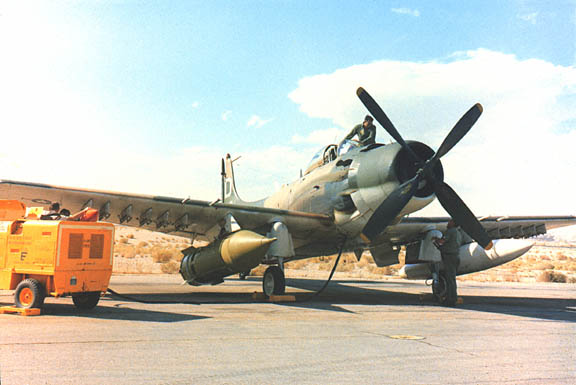 The test of the "Pave Pat" FAE weapon at Hurlburt Field, FL
---